Community Information
---
Events
This page will contain information on local events in Walpole with a variety of information including start times and road closures. Please review this information carefully, you may find some helpful tips to make the events more enjoyable for you and your family.
Night Before The Fourth
On the Third of July, Walpole celebrates the independence of our Nation by holding it's popular parade and fireworks display. A staple in Walpole, our celebration has been going strong for over 50 years, and has grown into quit a spectacle. Below, you will find all the information you need to enjoy the event, and we ask that you follow some of the very simple driving and parking instructions listed below.

-Roads Closed- At 4:30pm, the roads surrounding the event area will be closed, namely Stone St. and School St. The map below shows the area that will be closed. There will be no vehicle traffic in this area unless permitted by the traffic officers that will be assigned to these intersections.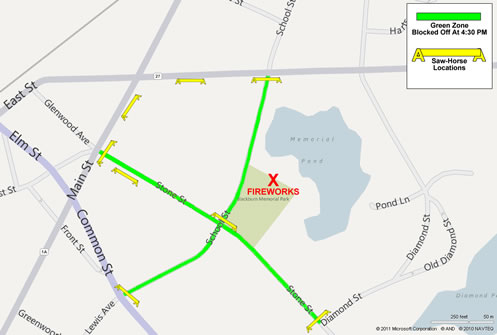 -Parade- The Fire Engine Parade starts at the East Walpole Fire Station at 6:00pm sharp. The route is displayed on the map below. Please note, that once the parade reaches an intersection, that intersection is closed to all traffic until the entire parade passes.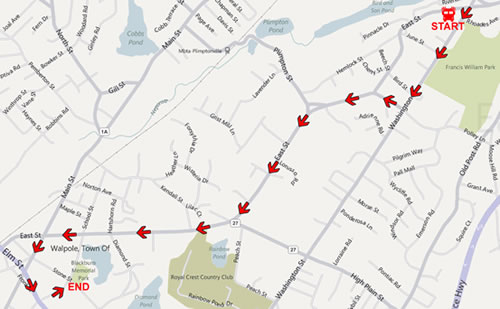 -Fair- Immediately following the parade, there is a celebration held in the center, behind the fire station. There is live music, souvenirs and refreshments.

-Fireworks- The fireworks start at 9:30pm, launched from the area of the center pool on School St., they can be enjoyed from anywhere in the center.

-Parking- This event has become so popular in recent years that parking has become a little tight. The Walpole Police Department strongly advises that everyone attending the event take extra care when planning their evening.
There are 2 big tips that will help you enjoy your evening:
- Park on the side of the center, closest to your house. After the fireworks, all traffic is directed out of the center. You may find it difficult to cross through the center of town during the post event rush.
- The biggest tip; relax. The entire post event rush is a 30 minute affair. Bring some extra snacks and drinks for after the event and take your time leaving. Spend a half-hour relaxing, and by the time you get to your car the traffic will be practically gone.
Community Info